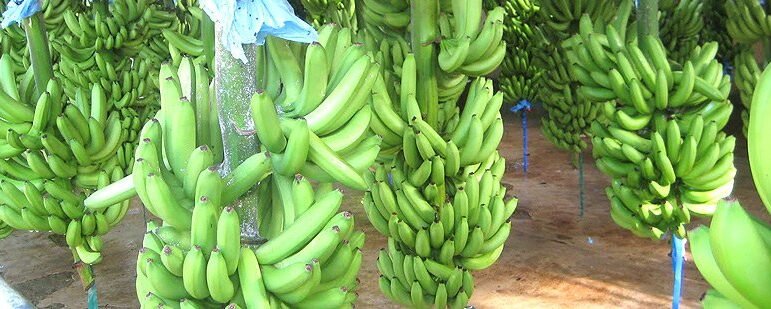 Bananas contain about 74% water, 23% carbohydrate, 1% protein, and 0.5% fat. A 4-ounce banana without the peel is a good source of vitamin B6, potassium, and fiber.
Ripe fruits can be pulped for puree for use in a variety of products including ice cream, yogurt, cake, bread, nectar, and baby food. Ripe bananas can be dried and eaten, or sliced, canned with syrup, and used in bakery products, fruit salads, and toppings. Green (unripened) bananas can be sliced and fried as chips. Whole green fruits can also be dried and ground into flour. Vinegar and alcoholic beverages can be made from fermented ripe bananas.
| Specifications | |
| --- | --- |
| Lenght | 6 Inch & Above |
| Calibre | 40 mm TO 46 mm |
| Maturity Age | 11 Weeks – 13 Weeks |
| Hands | 3/4/5/6 |
| Packing | 7 & 13 Kg NET Weight Box |
| Box Types | 5 Ply At The Bottom & 3 Ply At The Top |
| Total No. Of Boxes | 1540 Boxes (40 FT' Reefer Container) |
| Total Net Weight | 20.20 Tons (40 FT' Reefer Container) |
| Refer Container Temp. | +13C |
| Peak Season | October To June |
| Processing Time | 10-15 Working Days After Confirmation |
| Supply Ability | 60 Tons/Week |
India's Total Export different countries.
How To Select A Genuine Exporter Of Indian Banana?
Understand Exporter's Company and the Industry.
Understand the Exporter's Presence and experience.
Knowledge, Quality and Source of the Product.
Pricing of the Product.
Willingness to help without any sales expectation.
Video Calling/Physical Visit.
Verification in Google about the complaints.
Tradeshow Participation.
Why Indian Banana?
Everyone likes to eat fruit. But, Banana is one of the most eatable fruit in the 50% population in all over the world. We are counted as top exporter and supplier of Fresh green cavendish. We offer the green cavendish grow using the high quality tissue and use all ingredients under the special guidance of skilled professionals. Before deliver the products in front to our clients, firstly our skilled analyst tested on well-defined parameters of quality orders to ensure flawlessness.
Our Mainly Features Are:
• Natural freshness
• Nutritious
• Improves health
• No artificial growth
• Highly hygienic
• Rich in Iron and Potassium
Why Us?
Procurement and scrutinity to the fullest from farmers
Transparency and Genuinity in Information
Adhering to our core values for each process(QIACC)
Banana Cultivation Specialist will deal throughout the process
Quality Control specialist in each process and checks each hand
Live Product Photos and Packing Photos Update
Knowledge Sharing to buyers
Customer First and Attitude
Direct involvement of Kinal management for each shipment
Post Harvesting Process
1. Dehanding
2. Quality inspection at packing plant
3. Washing from 3 tanks separately
4. Air Drying
5. Packing
6. Pre-cooling
7. Transport
Cavendish Banana Shipment