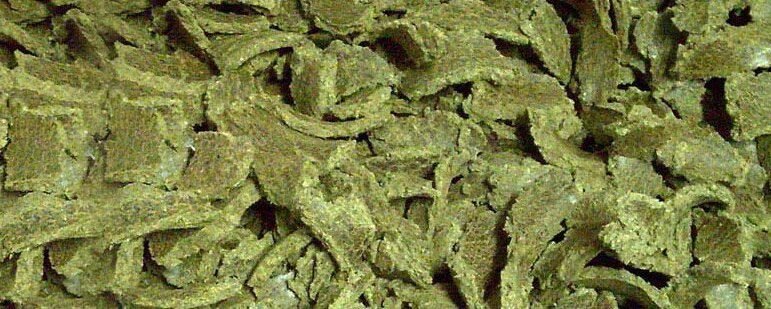 Cotton seed oil cake is made from cotton seed after extracted oil from it. This way it is residual part of cotton seed with available of oil content. Raw cotton goes for ginning process after gin its separate cotton linter from its seed. Cotton seed goes in oil mill for removing oil from it. After removing oil from seed some part remains residual its call cotton seed oil cake. We have very good quality of cotton seed oil cake in large quantity. Cotton seed oil cake is very useful for as a feed for cattle. Some time it is useful as an organic fertilizer for soil health to get more crops.
Cotton seed cakes are the semi solid material that remains after extracting the oil from the cotton seeds. Cotton seed cake is used for cattle feed which is good source of nutrition for cattle. Our cottonseed oil cake contains a large amount of protein, oil which makes it highly desirable for animal feed in India. We manufacture and export Cotton Seed Oil Cake is the best quality available in the market.
Specification of Cotton oil Seed Cake::
| Specification of Cotton oil Seed Cake: | |
| --- | --- |
| Product Type | Animal Feed |
| Use | Cattle |
| Admixture (%) | None |
| Moisture (%) | Less than 5% |
| Grade | Premium |
| Packaging | 25kg/bag , 50kg/bag |
| Place of Origin | Maharashtra, India |
| Brand Name | KGCPL |
| Model Number | KGC-COS-1 |
| Protein | Around 22% - 25% |
| Fat i.e Oil Content | 5 % to 7% |
| Sand Silica | Less than 1.5 % |
| Grade | Premium |
| Aflatoxin | Below 5.0mcg |
| Color | Natural Green |
Container of Cotton Oil Seed Cake:
| Type Of Container | Quantity |
| --- | --- |
| 20′Fcl | 15 to 18 MT |
Why Cotton Oil Seed Cake From Kinal Global Care Private Limited?
Transparent Written and Oral Communication about the product.
Customer focused rather than sales focused.
Experience of Shipping to almost 16 countries.
Customers feedback for each shipment.
Stringent Sourcing and Quality checking.
Live Videos and Photos while processing.
Willingness to help without any sales expectation.
Direct Personal Involvement of Management in each shipment.
How To Select A Genuine Exporter Of  Cotton Oil Seed Cake?
Understand Exporter's Company and the Industry.
Understand the Exporter's Presence and experience.
Knowledge, Quality and Source of the Product.
Pricing of the Product.
Willingness to help without any sales expectation.
Video Calling/Physical Visit.
Verification in Google about the complaints.
Tradeshow Participation.
The countries which are importing  Cotton Oil Seed Cake from India are:

South Africa

South Korea

Bangladesh

Nepal

Thailand