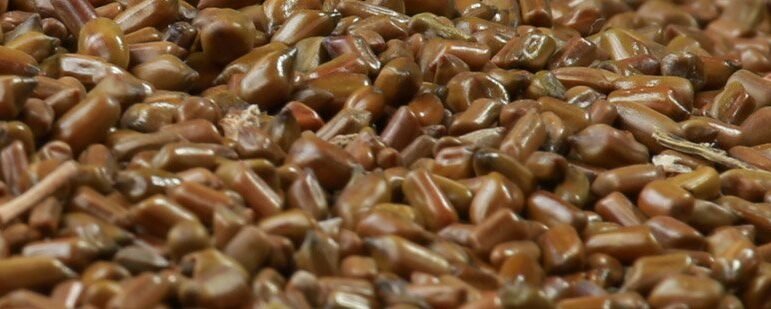 Cassia Tora is a wild crop plant that belongs to the Caesalpinaceae plant family and genus Cassia. Cassia tora seeds are hard to beat in their quality and affordability. They are bold and small seeds. These seeds are also shiny and are duly machine cleaned. These cassia tora seeds are available into many ranges such as cassia tora seed and natural cassia tora seeds. Cassia tora L., (=Cassia obtusifolia L.), Caesalpiniaceae, occurs throughout India as a weed. The leaves, flowers and young fruits are illustrated. The plant is known for its significant medicinal value. The Cassia plant mainly grows in the tropical regions of India and is commercially supplied in bulk from regions of Uttar Pradesh and Madhya Pradesh. Cassia Tora Seed or Jue Ming Zi in Chinese, or the ripe seed of sickelpod cold nature of the fruit is excellent for cooling down the body. Cassia Tora Seed is highly valued in ancient Chinese herb. This bitter and salty Cassia Tora Seed has also been credited as an eyesight booster. Cassia Tora can also helps by removing intensive heat from the liver and improving vision, moisturizing intestine and easing the bowels. Great help for losing weight as well.
Properties:
Sweet, bitter and salty in flavor, slightly cold in nature, it is related to the liver, kidney and large intestine channels.
Uses:
The parts like roots, seeds and leaves of this plant can be used in curing various health problems and diseases. The root is used in snakebite. The dried and fresh leaves are used in northern Nigeria in the treatment of ulcers, ring worm and other parasitic skin diseases. In cultures, the leaf extracts of the plant showed anti-bacterial activity. Antiviral activity, particularly against Newcastle disease virus and Vaccinia virus. The Cassia Tora Seed, ripe seed of sickle pod, is a highly valued ancient Chinese herb. As defined in Ayurveda these seeds of Cassia Tora are great laxatives, ophthalmics, anthelmintics and expectorants. Its main constituents include derivatives of anthraquinone, chrysophanol, emodin, rhein and fixed oil. Due to the cold nature of the fruit from which they are extracted, the Cassia Tora seeds are the excellent sources for cooling down the body. Used as aperients and purgatives the seeds are help to loosen the bowels to relieve constipation. Traditionally, the leaves of Chakvad are popular as potherb. It is used as a natural pesticide in the organic farms of India. It has been reported that Cassia tora contains chrysophanic acid-9-anthrone which is an important fungicide. The intake of these seeds can cure skin diseases like ring worm, itch and psoriasis. These herbal seeds can also remove intense heat from the liver and improve the acuity of sight and loosen the bowels to relieve constipation. The leaves contain anthroquinones, and are employed in weak decoction for treating childhood teething, fever and constipation. The paste of the ground, dried root is used in Ayurveda as a treatment for ringworm and snakebite. However when Cassia Tora is used together with self-heal Spica Prunellae and Cape jasmine fruit (Fructus Gardeniae) can be god remedy for conjunctivitis or inflammation of the conjunctiva, the mucous membrane that lines the inner surface of the eyelids and is continued over the forepart of the eyeball. This can even cure photophobia, or intolerance to light, due to fire of excess types in the liver channel. It is frequently used together with milk vetch seed or Semen Astragali Complanati for blurred vision due to yin deficiency of the liver and kidneys. The sickle senna seed decoction, syrup and tablets is most effective for hyperlipemia, the presence of excess fat or lipids in the blood. The modern researches reveal that the fresh seed of this plant contains chrysophanol, obtusin, aurantio-obtusin and vitamin A. It contains anthra-glucoside which is known for its laxative effect. Cassia seed mixture with water can inhibit dermatomyces, while its alcohol infusion is known to inhibit the growth of harmful microorganisms like staphylococcus, bacillus diphtheriae, bacillus coli, typhoid and paratyphoid bacillus. In addition to being used as medicinal herbs, the seeds are also used as a mordant in dyeing. They can be roasted and ground to be used as a coffee substitute. As the dehydrated seed of Cassia plant has good protein, it can be used as a full of protein feed for livestock and birds. Growing as leguminous weed in several parts of India, this is also used as fodder for animals and as a feed ingredient for carps.
| CONTAINER | |
| --- | --- |
| 20 Feet /1fcl | 25 Metric Tonnes |
| 40 Feet/1fcl | 26 Metric Tonnes |
Why Cassia Tora From Kinal Global Care Private Limited?
Transparent Written and Oral Communication about the product.
Customer focused rather than sales focused.
Experience of Shipping to almost 16 countries.
Customers feedback for each shipment.
Stringent Sourcing and Quality checking.
Live Videos and Photos while processing.
Willingness to help without any sales expectation.
Direct Personal Involvement of Management in each shipment.
How To Select A Genuine Exporter Of Cassia Tora?
Understand Exporter's Company and the Industry.
Understand the Exporter's Presence and experience.
Knowledge, Quality and Source of the Product.
Pricing of the Product.
Willingness to help without any sales expectation.
Video Calling/Physical Visit.
Verification in Google about the complaints.
Tradeshow Participation.
Analysis of Exports of Cassia Tora:
India exported cassia tora worth USD 15,441,353 with total quantity of 11,835,803. Vietnam is the largest buyer of cassia tora accounting for exports worth USD 4,886,536 followed by United Kingdom and France which imported cassia tora worth USD 3,832,622 and USD 2,276,443 respectively.
The countries which are importing Cassia Tora from India are:

Vietnam

Japan

Germany
China

Taiwan

Philippines

France

South Korea

Brazil
Chile