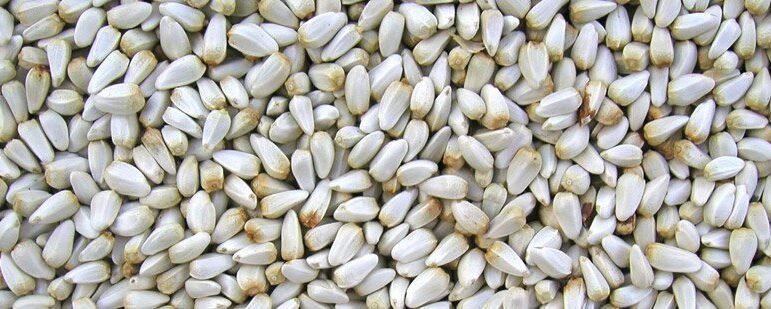 Although safflower seed is one of the oldest oilseed crops in the history of mankind – some of the first mummies were wrapped in linens dyed with safflower flowers – it has become popular in wild bird feeding only in recent years. The high fat, protein and oil content of safflower make it a valuable nutritional food source for wild birds. Widely known as the cardinal's favorite food of choice, safflower has also been recognized as the solution to many squirrel problems at birdfeeders.
Safflower seeds are found in most of the quality wild birdseed mixes available on the market today. They are rarely found, however, in any of the bottom-end mixes available at mass merchants or grocery stores since they are more expensive than some of the other seeds commonly used in the cheaper blends. Some wild birdseed mixes offer safflower seed as one of the main ingredients in order to attract more cardinals, one of North America's favorite backyard birds, and are named for them.
In addition to cardinals, chickadees, titmice, nuthatches, grosbeaks are also attracted to safflower seed, among others. More important, however, is the fact that grackles and starlings – species known as "feeder hogs" that keep other, more desirable birds away from backyard birdfeeders – are not attracted to it.
Specification of Safflower seed (Machine Cleaned):
| Moisture | 8% (Max) |
| --- | --- |
| Purity | 99%(Min.) |
| Foreign Matter | 1% (Max.) |
| Sand & Silica | 2.5% Max. |
| Origin | India |
| Packing | In Strong PP Bags 25 Kg Packing |
| Brand | KGCPL |
| 1 FCL/20 FT | 18 MT/1 FCL |
| Usage | Oil Purpose & Bird Feed |
Container of Safflower Seeds:
| Type Of Container | Quantity |
| --- | --- |
| 20′Fcl | 18 MT |
Why Safflower Seeds From Kinal Global Care Private Limited?
Transparent Written and Oral Communication about the product.
Customer focused rather than sales focused.
Experience of Shipping to almost 16 countries.
Customers feedback for each shipment.
Stringent Sourcing and Quality checking.
Live Videos and Photos while processing.
Willingness to help without any sales expectation.
Direct Personal Involvement of Management in each shipment.
How To Select A Genuine Exporter Of  Safflower Seeds?
Understand Exporter's Company and the Industry.
Understand the Exporter's Presence and experience.
Knowledge, Quality and Source of the Product.
Pricing of the Product.
Willingness to help without any sales expectation.
Video Calling/Physical Visit.
Verification in Google about the complaints.
Tradeshow Participation.
The countries which are importing  Safflower Seeds from India are:

Philippines

Belgium

Bahrain

Taiwan
China
United Kingdom

Japan
Italy

South Korea

Canada

UAE
Safflower Seeds Shipments