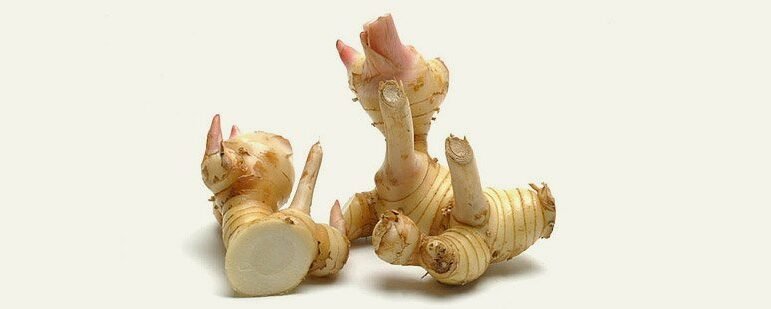 Galangal Root extracts Alpinia galanga galangine, alpinin. Raw and cooked minced beef samples containing commercial antioxidants or galangal (Alpinia galanga) extract were evaluated for storage stability at 4 1 C. Thiobarbituric acid (TBA) values of raw and cooked samples containing galangal extract at 5 and 10% (w/w) were significantly (p 0.05) lower than those of the controls. In raw beef, galangal extract at 10% (w/w) was as effective as -tocopherol at 0.10% (w/w) and butylated hydroxytoluene (BHT) at 0.02% (w/w) in inhibiting/minimising lipid oxidation. Galangal, a herb like ginger and turmeric belongs to the rhizome family. It is also known as 'Siamese ginger' and is commonly used in Southeast Asian cuisine, especially Thai. The name galangal is derived from the Chinese word for ginger. Botanically it is known as alpinia galanga. This tuber is known to have numerous medicinal and health benefits. And sit is used by many homeopaths and healthcare professionals.
Health benefits of Galangal Root:
Galangal contains anti-inflammatory properties and therefore is beneficial in treatment of arthritis and rheumatoid arthritis.
It also helps to relieve discomfort caused due to inflammation of the abdomen and ulcers too.
To curb sea and motion sickness, nausea, chew a few slices of fresh galangal.
Galangal contains a host of anti-oxidants that helps to minimize the damage caused by free radicals and other toxins in the body.
To improve blood circulation in the body, include galangal in your diet.
If you suffer form diarrhoea, chew a few slices of fresh galangal to seek relief.
Besides being a rich source of iron, sodium, vitamins A and C, it contains flavonoids and phytonutrients.
| Specifications | |
| --- | --- |
| Product Name | Galangal Root |
| Packing | 50kg jute bag packing |
| Crop | High quality,Current Year.New Crop |
| Color | brown, big size, clean |
| Moisture | 14% Max |
| Admixture | 1% max |
| Other Information | |
| --- | --- |
| Product Name | Galangal Root Extract |
| Latin Name | Rhizoma Alpiniae Officinarum |
| Part of Plant Used | Root |
| Test Method | HPLC/UV |
| Appearance | Brown Powder |
| Odor | Characteristic |
Container stuffing information:
Approximately
–> 1x20fcl : 10.5 MT
–> 1x40fcl : 24.0 MT
Why Galangal Root From Kinal Global Care Private Limited?
Transparent Written and Oral Communication about the product.
Customer focused rather than sales focused.
Experience of Shipping to almost 16 countries.
Customers feedback for each shipment.
Stringent Sourcing and Quality checking.
Live Videos and Photos while processing.
Willingness to help without any sales expectation.
Direct Personal Involvement of Management in each shipment.
How To Select A Genuine Exporter Of Galangal Root?
Understand Exporter's Company and the Industry.
Understand the Exporter's Presence and experience.
Knowledge, Quality and Source of the Product.
Pricing of the Product.
Willingness to help without any sales expectation.
Video Calling/Physical Visit.
Verification in Google about the complaints.
Tradeshow Participation.
Analysis of Exports of Galangal Root:
India exported galangal root worth USD 1,714,584 with total quantity of 925,376. United Arab Emirates is the largest buyer of galangal root accounting for exports worth USD 881,348 followed by Iran and Saudi Arabia which imported galangal root worth USD 298,711 and USD 220,249 respectively.
The countries which are importing Galangal Root from India are:

UAE

Saudi Arabia
Iran

Kuwait

Vietnam

Netherlands

Iraq
Jordan

Malaysia