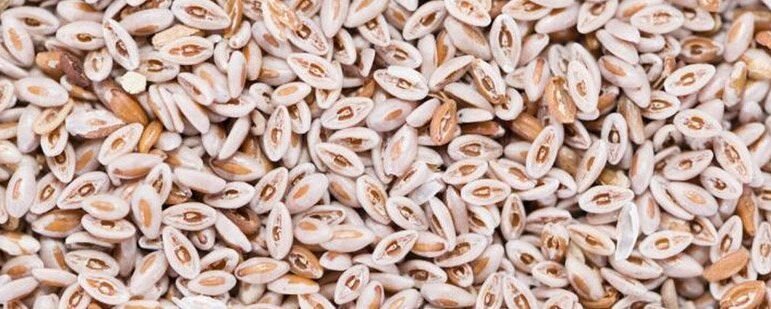 Organic Psyllium Husk is grown without use of pesticides, herbicides or chemical fertilizers, and processed without use of any additives, sweetners or chemicals. The entire Pocess from sourcing of raw psyllium seed to final product Psyllium husk is tested by by government approved Inspection Agency to ensure 100 % Organic product. Organic foods Products contain higher Nutrition value compare to conventionally croped food Products. Psyllium Husk consists of the epidermis and the collapsed adjacent layers removed from the dried ripe seeds of plantago Ovata.
Common Names of Psyllium:
Psyllium Husk Powder,Flea, lspaghua, Spogel, Plantago Psyllium, Isaphgol, Plantago sp., Isabgula, Plantaginis Ovatae Testa
Botanical Names of Psyllium:
Plantago Ovata, Plantago Ispaghula Psyllium Other Name: Psyllii semen, Blond Psyllium, Cleansing Plaintain, Natural dietary Fiber, Herbal supplement, Fiber – blend, Laxative, Nutrition- Herbs, Feed Supplement, Pale Psyllium.
| Specifiaction of Psyllium Husk | |
| --- | --- |
| Description | Pale-Buff-Coloured Husk. The Odour is not Marked |
| Taste | Blend Mucilaginous |
| Moisture | 10% Maximum |
| Swell Volume | Not less than 70ml/gm |
| Psyllium Mucilloid Content | 98% Minimum |
| Total Ash | 4% Maximum |
| Acid Insoluble Ash | 1% Maximum |
| Heavy Extraneous Matter | 0.5% Maximum |
| Light Extraneous Matter | 2% Maximum |
| Insect Infestation | Not more than 100 insect fragments including mites and psocides per 25 gms |
| Mesh Size Limits | 80 Mesh |
| TOTAL YEAST & MOLD COUNT | NMT 5,000 CFU/Gm |
| E.COLI | ABSENT |
| SALMONELLA | ABSENT |
| Psyllium Husk Powder 98%, 80 mesh | |
HDPE Laminated bag with inner food Grade Ploy liner : 25 Kg. & 40 Kg
Conventional Gunny bags with inner food-grade poly-liner : 25 kg. & 40 kg.
Paper bags with inner food-grade poly-liner : 10 kg., 20 kg. & 25 kg.
Fibre drums – Fibre Paper drum and silver plated ring with inner poly-liner. Net Wt. 25-50 kg/drum.
Jumbo HDPE bags : 950 kg.
(We also provide packing volume / weight as per specific customer requirements in any specified packing material).
Container stuffing information:
Approximately 9 M. Tonne per 20 feet container for psyllium husk and 19 M. Tonne for psyllium husk powder, without palletization.
Why Psyllium Husk From Kinal Global Care Private Limited?
Transparent Written and Oral Communication about the product.
Customer focused rather than sales focused.
Experience of Shipping to almost 16 countries.
Customers feedback for each shipment.
Stringent Sourcing and Quality checking.
Live Videos and Photos while processing.
Willingness to help without any sales expectation.
Direct Personal Involvement of Management in each shipment.
How To Select A Genuine Exporter Of Psyllium Husk?
Understand Exporter's Company and the Industry.
Understand the Exporter's Presence and experience.
Knowledge, Quality and Source of the Product.
Pricing of the Product.
Willingness to help without any sales expectation.
Video Calling/Physical Visit.
Verification in Google about the complaints.
Tradeshow Participation.
Analysis of Exports of Psyllium Husk:
India exported psyllium husk worth USD 374,459,130 with total quantity of 149,153,208. United States is the largest buyer of psyllium husk accounting for exports worth USD 136,707,325 followed by Germany and United Kingdom which imported psyllium husk worth USD 59,556,868 and USD 30,274,197 respectively.
The countries which are importing Psyllium Husk from India are:

Vietnam
United Kingdom

United States
Italy

Australia

Pakistan

Belgium

Mexico
Denmark

Malaysia