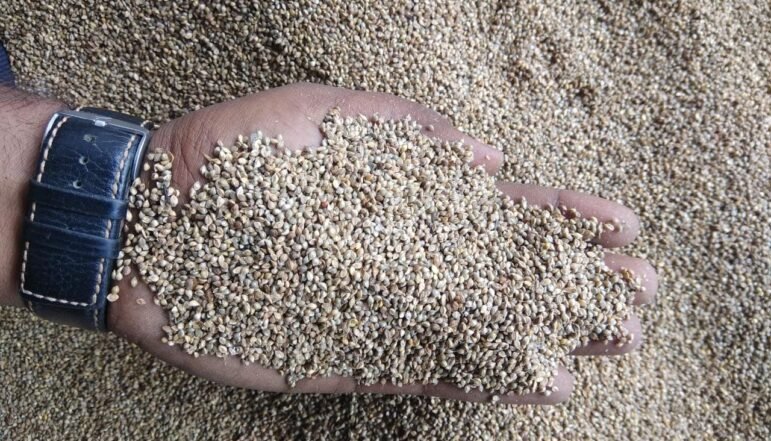 Millet is one of the most nutritious and easily digested of all grains; and it is high in starch, making it a good high-energy food. Millet is very rich in amino acids. It is used both as food for human and feed for animals. It is also used to make bread, soup, biscuits, flour, porridge, cakes, alcoholic beverages etc.
Millet is commonly used in various remote parts of India as a staple food. Millets are used in brewing millet beer in some cultures. It is used in various parts of the world as a based ingredient for distilled liquor. Millets are also eaten in the form of porridge or savoury with meat and vegetable stew. It can be grown in extreme hot & dry places, were other crops are difficult to grow.
Grey Millet is also known as Indian Barnyard millet.
Specification of Grey Millet
| | |
| --- | --- |
| Moisture | 12% (Max.) |
| Purity | 99% (Min.) |
| Foreign Matter | 1% (Max.) |
| Origin | India |
| Grade | Premium |
| Packing | In Strong PP Bags  25/50 Kg Packing Net. |
| 1 FCL/20 FT | 22.5 MT/1 FCL |
| Brand Name | KGCPL Or As Per Buyer Requirement |
| Usage | Human Consumption, Animal & Bird Feed |
Container of Grey Millet:
| Type Of Container | Quantity |
| --- | --- |
| 20′Fcl | 22.5 MT |
Why Grey Millet From Kinal Global Care Private Limited?
Transparent Written and Oral Communication about the product.
Customer focused rather than sales focused.
Experience of Shipping to almost 16 countries.
Customers feedback for each shipment.
Stringent Sourcing and Quality checking.
Live Videos and Photos while processing.
Willingness to help without any sales expectation.
Direct Personal Involvement of Management in each shipment.
How To Select A Genuine Exporter Of  Grey Millet ?
Understand Exporter's Company and the Industry.
Understand the Exporter's Presence and experience.
Knowledge, Quality and Source of the Product.
Pricing of the Product.
Willingness to help without any sales expectation.
Video Calling/Physical Visit.
Verification in Google about the complaints.
Tradeshow Participation.
The countries which are importing  Grey Millet from India are:

Pakistan

Saudi Arabia

UAE

Vietnam
Yemen
Libya

Tunisia
Indian Grey Millet From Kinal Global Care Pvt. Ltd.