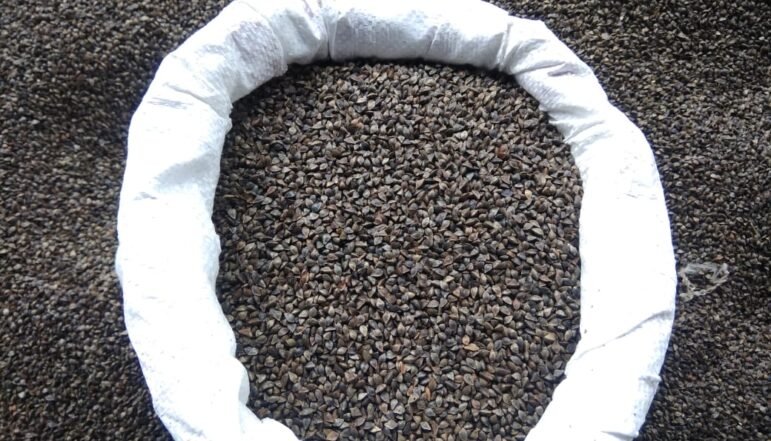 Buckwheat or common buckwheat, is a plant cultivated for its grain like seeds and as a cover crop. The name "buckwheat" is used for several other species, such as Fagopyrum tataricum, a domesticated food plant raised in Asia.
Kinal Global Care Offering our Valuable Customers Indian Buckwheat. Buckwheat is a gluten-free, protein-rich, grain-like seed crop. These soft white seeds have a mild flavor, but when toasted or roasted, they have a delightfully intense flavor. Buckwheat Groats can be steam-cooked like rice for salads, Porridge and Cereals for Breakfast. Buckwheat provides complete protein, including all the essential 8 amino acids with vitamin e and nearly the entire spectrum of b complex.
Buckwheat Groats are the hulled seeds of the buckwheat plant. Buckwheat is one of the most efficient producers of plant protein, unmatched by any other grain. It must be stored in a cool, air tight and dry place.
Specification of Buckwheat:
| | |
| --- | --- |
| Moisture | 10% (Max.) |
| Purity | 99% (Min.) |
| Foreign Matter | 1% (Max.) |
| Origin | India |
| Grade | Premium |
| Packing | In Strong PP Bags  25/50 Kg Packing Net. |
| 1 FCL/20 FT | 20 MT/1 FCL |
| Brand Name | KGCPL Or As Per Buyer Requirement |
| Usage | Human Consumption, Animal & Bird Feed |
| Type Of Container | Quantity |
| --- | --- |
| 20′Fcl | 20 MT |
Why Buckwheat From Kinal Global Care Private Limited?
Transparent Written and Oral Communication about the product.
Customer focused rather than sales focused.
Experience of Shipping to almost 16 countries.
Customers feedback for each shipment.
Stringent Sourcing and Quality checking.
Live Videos and Photos while processing.
Willingness to help without any sales expectation.
Direct Personal Involvement of Management in each shipment.
How To Select A Genuine Exporter Of  Buckwheat ?
Understand Exporter's Company and the Industry.
Understand the Exporter's Presence and experience.
Knowledge, Quality and Source of the Product.
Pricing of the Product.
Willingness to help without any sales expectation.
Video Calling/Physical Visit.
Verification in Google about the complaints.
Tradeshow Participation.
Buckwheat From Kinal Global Care Pvt. Ltd.