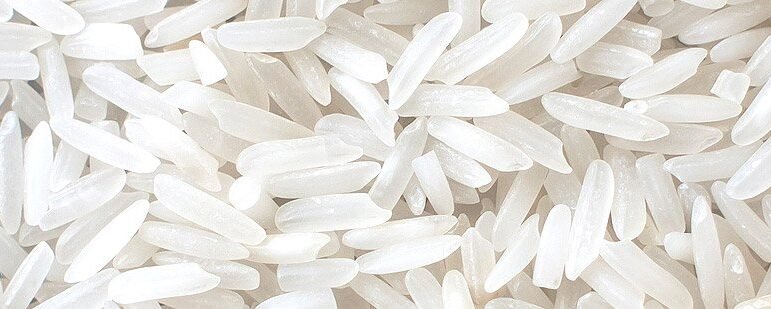 Basmati is a variety of long, slender-grained aromatic rice which is traditionally from the Indian subcontinent. As of 2014, India exported 65 percent of the overseas basmati rice market, while Pakistan accounted for the remainder, according to the state-run Agricultural and Processed Food Products Export Development Authority. However, many countries use domestically grown basmati rice crops.
The areas of basmati rice production in India are in the states of Uttar Pradesh, Punjab, Haryana, Rajasthan, Himachal Pradesh, Delhi, Uttarakhand, Madhya Pradesh and Bihar. India's total basmati production for the July 2011–June 2012 crop year was 5 million tonnes. In India, Haryana is the major basmati rice cultivating state, producing more than 60 percent of the total basmati rice produced in India.
Types of Rice:
Rice growing in fields and paddies has three edible parts – the bran, the germ, and the endosperm – just like all other whole grains. Most of us think of "brown rice" as being synonymous with whole grain rice, but in fact whole grain rice can be many different colors, depending on the variety of rice. Most rice varieties look similarly white once they're milled to remove the bran and germ – but trace them back to their origins, and you'll see a vibrant range of colors.
Long Grain Brown Rice
Long grain rice has a long, slender kernel, four to five times longer than its width. Cooked grains are separate, light, and fluffy.
Medium Grain Brown Rice:
Medium grain rice has a shorter, wider kernel (two to three times longer than its width) than long grain rice. Cooked grains are more moist and tender, and have a greater tendency to cling together than long grain.
Short Grain Brown Rice:
Short grain rice has a short, plump, almost round kernel. Cooked grains are soft and cling together.
Sweet Brown Rice:
Sweet rice is short and plump with a chalky white, opaque kernel. When cooked, sweet rice loses its shape and is very sticky.
Brown Basmati Rice:
India is well known for its fragrant Basmati rice, another aromatic long-grain rice with a distinct "popcorn" aroma.
Himalayan Red Rice:
Also imported from India, this long-grain rice has a reddish bran layer and a nutty, complex flavor that adds visual and taste delight to any dish.
Our Specification of Long Grain Basmati Rice
BASMATI RICE
KGC 526
KGC 527
KGC 528
KGC 529
KGC 530
KGC 531
Type
1121White Sella
1121 Golden Sella
Sugandha
Pusa
Sharbati
PR 11
Length
8.25 mm
8.25 mm
7.75 mm
7.40 mm
7.25 mm
6.30 mm
Moisture
14% Max
14% Max
14% Max
14% Max
14% Max
14% Max
Damage & Discolored
0.5% Max
0.5%MAX
0.5%
0.5%
0.5%
0.5%
Broken
0.5% Max
0.5%
0.5%
0.5%
0.5%
0.5%
Purity of Rice
99% MIN.
99% MIN.
99% MIN.
99% MIN.
99% MIN.
99% MIN.
Admixture
1% Max
1% Max
5% Max
5% Max
5% Max
5% Max
Packing
Jute Bags Or Non Woven Bags In Master Pp Bag Or As Per Buyer Requirement.
Packing
Jute Bags Or Non Woven Bags In Master Pp Bag Or As Per Buyer Requirement.
Aroma:
JContains mark degree of aroma in raw and cooked stage. Extra-long grains, aromatic, free from dust and stones.
Taste:
Naturally Sweet,
Health benefits Of  Rice:
Gastrointestinal:
 White rice is one of the easiest and quickest foods to digest and requires only an hour to completely digest. Since white rice is low in fibre, it is very soothing to the digestive system and easily digested. So, it is great for relieving digestive disorders like diarrhoea, dysentery, colitis and even morning sickness. It is the best food for infants, young children and old people.
Overall energy:
 the body needs carbohydrates to function and white rice is an excellent source of energy.
Protein:
 Every 150g of rice has about 5 grams of protein. Rice powder is also used externally as a soothing powder in cases of skin inflammation such as small-pox, measles, prickly heat, burns and scalds.
BROWN RICE:
Brown rice has several health benefits. However, it is not very commonly used in Indian households mainly because people are ignorant of the health benefits of brown rice and secondly that it is costlier compared to white rice. The health benefits of brown rice include: Brown rice is an excellent source of soluble fibre. It helps to lower the levels of 'bad' LDL cholesterol in the blood. There is also some suggestions that the oil present in brown rice or extracted rice bran oil may help lower harmful cholesterol levels and blood pressure, whilst raising the levels of 'healthy' HDL cholesterol. The fibre in brown rice means that the digestion time of this carbohydrate is slower than processed grains, including white rice. This means that there is a more controlled slower release of sugar into the blood stream and it has a lower glycemic index (GI) compared to other grains. Brown rice is very rich in vitamins and minerals and hence nutritionally more beneficial.
BASMATI RICE:
Basmati rice is another unique species of rice originating from India. Basmati rice is also one of the varieties of rice used in many families. There are different variants of Basmati rice available in the market at varying costs. Just like all species of rice, basmati is available in white or brown versions, depending on the extent of the milling process. Brown basmati rice is comparable to other types of brown rice in nutrient content (although it does contain about 20% more fibre compared to most other types of brown rice), and white basmati rice is comparable to other types of white rice. The health benefits of fibre have already been discussed earlier in the article. Basmati rice and Jasmine rice are long-grain varieties that have been cultivated to bring out distinctive flavor profiles. Long grain of the rice gives a royal look to the rice recipe prepared, be it plain jeera rice or vegetable pulao. Basmati rice has a typical, unique aroma. In the case of basmati, this aroma is due to the presence of a chemical called 2-acetyl-1-pyrroline, which is found in basmati rice at about 90 parts per billion. That's about 12 times more than in other types of rice, giving basmati its special aroma.
Container:
Load ability: 25 MT in one 20 FT Container
Why Rice From Kinal Global Care Private Limited?
Transparent Written and Oral Communication about the product.
Customer focused rather than sales focused.
Experience of Shipping to almost 16 countries.
Customers feedback for each shipment.
Stringent Sourcing and Quality checking.
Live Videos and Photos while processing.
Willingness to help without any sales expectation.
Direct Personal Involvement of Management in each shipment.
How To Select A Genuine Exporter Of Rice ?
Understand Exporter's Company and the Industry.
Understand the Exporter's Presence and experience.
Knowledge, Quality and Source of the Product.
Pricing of the Product.
Willingness to help without any sales expectation.
Video Calling/Physical Visit.
Verification in Google about the complaints.
Tradeshow Participation.
Analysis of Exports of Indian Rice:
India exported rice worth USD 15,296,549,090 with total quantity of 23,135,485,058. Saudi Arabia is the largest buyer of rice accounting for exports worth USD 2,355,977,005 followed by Iran and United Arab Emirates which imported rice worth USD 2,289,608,890 and USD 1,217,697,087 respectively.
The countries which are importing Indian Rice from India are:

Iran

Saudi Arabia

UAE

Malaysia

Iraq

Kuwait
Benin
Yemen

Guinea
United Kingdom
Basmati Rice 1121 Golden Sella Shipments