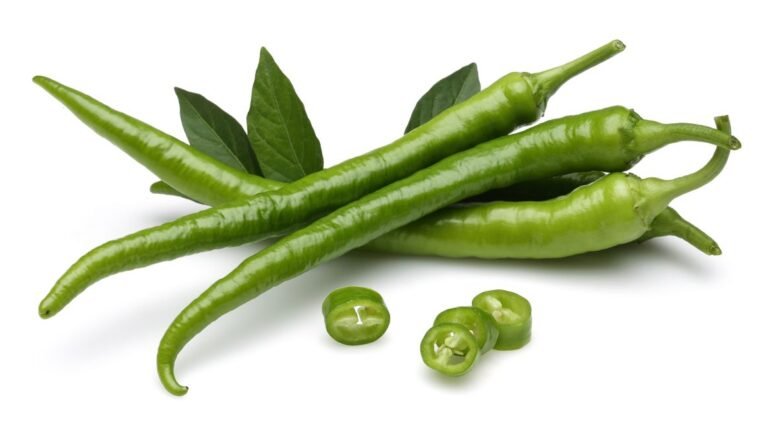 The botanical name for Indian Green Chilies is Capsicum Annuum. Maximum chillies are produced in Andhra Pradesh followed by Karnataka, Orissa, West Bengal, Maharashtra etc. Guntur in Andhra Pradesh is known for chillies.
We are instrumental in offering a comprehensive range of Green Chilies the offered chilies are full of flavour and are marked by green colour. These Chilies are appreciated for their high nutritional value like vitamins vitamin 6 Vitamin C, Carotene, potassium, magnesium, and iron. This range is also known for its ability to add flavour, spice and hotness to any dish.
Chilies contain large amounts of vitamin C and small amounts of carotene (provitamin A). They are very high in potassium, magnesium, and iron. Their very high vitamin C content can also substantially increase the uptake of non-home iron from other ingredients in a meal, such as beans and grains.
SPECIFICATIONS OF FRESH GREEN CHILLI
Specification And Ingredients Fresh Green Chilli
Nutrients
Calories 40, Total Carbohydrate 9 g, Dietary Fiber 1.5 g
Minerals
Calcium, Iron, Magnesium
Vitamins
Vitamin A, Vitamin C, Vitamin D, Vitamin B6
Protein
2 g
Fat
0 g
1 FCL/40ft
14 MT/1 FCL
Brand Name
KGCPL
Usage
Human Consumption
Criteria For Selection Of Green Chilli.
Green Chilli should be 3-4 inches in length and green.
Features:
Excellent green color
Hygienically packed
Hot chilli flavour
No pesticides
Why Fresh Green Chilli From Kinal Global Care Private Limited?
Transparent Written and Oral Communication about the product.
Customer focused rather than sales focused.
Experience of Shipping to almost 16 countries.
Customers feedback for each shipment.
Stringent Sourcing and Quality checking.
Live Videos and Photos while processing.
Willingness to help without any sales expectation.
Direct Personal Involvement of Management in each shipment.
How To Select A Genuine Exporter Of  Fresh Green Chilli?
Understand Exporter's Company and the Industry.
Understand the Exporter's Presence and experience.
Knowledge, Quality and Source of the Product.
Pricing of the Product.
Willingness to help without any sales expectation.
Video Calling/Physical Visit.
Verification in Google about the complaints.
Tradeshow Participation.
Packaging Details:-
Packing as per Export Standard 5 Kg Box.
Fresh Green Chilli Shipment