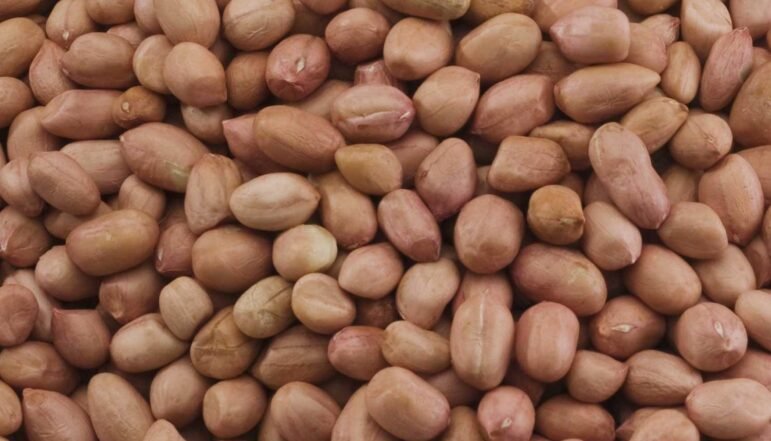 Peanut, also known as groundnut (Arachis hypogaea) is a crop of global importance. It is extensively grown in the tropics and sub-tropics, being important to both smallholder and large commercial producers. It is classified as both a grain legume, and, because of its high oil content, an oil crop. World annual production is about 46 million tonnes per year. China accounts for 37% of World production, Africa for 25%, India for 21% and the Americas 8%. In Africa, remarkably, its production exceeds that of all other grain legumes put together, and it is an extremely important source of protein, energy and iron.
Opened Peanut
As a legume, and grain peanut belongs to the botanical family Fabaceae (also known as Leguminosae, and commonly known as the bean or pea family). Like most other legumes, peanuts harbor symbiotic nitrogen-fixing bacteria in root nodules. This capacity to fix nitrogen means peanuts require fewer fertilizers and improve soil fertility, making them valuable in crop rotations. It also accounts for the high protein content of peanut seeds. It is an annual herbaceous plant growing 30 to 50 cm (1.0 to 1.6 ft) tall. The leaves are opposite and pinnate with four leaflets (two opposite pairs; no terminal leaflet); each leaflet is 1 to 7 cm (long and 1 to 3 cm to 1 inch) across. Like many other legumes the leaves are nyctinastic that is they have "sleep" movements, closing at night.
Peanuts actually grow underground, as opposed to nuts like walnuts, almonds, etc. that grow on trees (and are sometimes referred to as "tree nuts"). Peanuts, along with beans and peas, belong to the single plant family, Leguminosae. Legumes are edible seeds enclosed in pods.
Unlike most plants, the peanut plant flowers above the ground, but fruits below ground. From planting to harvesting, the growing cycle of apeanut takes 4 to 5 months, depending on the type and variety. Many people are surprised to learn that peanuts do not grow on trees like pecans or walnuts.
Features:
Health Benefit
Longer shelf Life
High Yield.
They are ready for harvest between 85 and 130 days after sowing, depending on the variety. Pods can be harvested by hand or by mechanical means. Plants should be pulled from the ground and the pods removed. After harvest, pods are dried in the sun for 2–10 days until their moisture content is about 10%.
Peanuts are popularly used as seed oil in India. Since they are obtained from the ground, they are also sometimes called as groundnuts. They are easily available round the year and almost everywhere in India.
There are several important roles for peanuts in many areas of the world. A large percentage of the annual peanut harvest is pressed to yield peanut oil, a pale yellow, neutrally flavored oil with a very high smoking point. Peanut oil is ideal for frying, and is widely used in many countries for this purpose. The nuts are also ground into peanut, a creamy spread which is popular with people of all ages. Peanuts can be found for sale whole as well, to be eaten plain, sprinkled onto food, or included in various dishes.
Most commercially grown peanuts are used for the extraction of their oil which is used in cooking. The by product of oil extraction is a pressed cake which is used as an animal feed and also in the production of peanut flour. Raw kernels are also commonly roasted and eaten as a snack food. It is the major oilseed of India. It accounts for around 25% of the oilseed production of the country. Annual production 5-8 million tons. Production is highly vulnerable to rainfall deviation and display huge fluctuation between years. Gujarat, Tamilnadu, Andhra Pradesh, Karnataka, Maharashtra are the major producers of seed
Specifications of Peanut :
| SPECIFICATIONS | |
| --- | --- |
| Style | Dried |
| Colour | Pink |
| Processing Type | Machine Cleaned |
| Packing | As per buyers request |
| Grade | Premium |
| Variety | Raw And Blanched |
| Moisture | 7% Max. |
| Aflatoxin | 5 PPB |
| Size | 38-40 mm |
| Usage | Human Consumption |
| Taste | Original Peanut Flavor |
Packaging Shipping Of Peanut :
| Packaging Shipping | |
| --- | --- |
| Packaging | 25Kg. & 50 Kg. Jute Bag Or 10Kg. & 25Kg. Vacuum Pack Or As Per Buyer requirement |
| Shipping | 10 to 15 days after confirm order. |
Why Peanut From Kinal Global Care Private Limited?
Transparent Written and Oral Communication about the product.
Customer focused rather than sales focused.
Experience of Shipping to almost 16 countries.
Customers feedback for each shipment.
Stringent Sourcing and Quality checking.
Live Videos and Photos while processing.
Willingness to help without any sales expectation.
Direct Personal Involvement of Management in each shipment.
How To Select A Genuine Exporter Of Peanut ?
Understand Exporter's Company and the Industry.
Understand the Exporter's Presence and experience.
Knowledge, Quality and Source of the Product.
Pricing of the Product.
Willingness to help without any sales expectation.
Video Calling/Physical Visit.
Verification in Google about the complaints.
Tradeshow Participation.
Export Analysis of Peanut
India exported peanut worth USD 185,233,343 with total quantity of 216,548,851. Vietnam is the largest buyer of peanut accounting for exports worth USD 34,768,938 followed by United States and Russia which imported peanut worth USD 18,701,269 and USD 14,399,759 respectively.
The countries which are importing Peanut from India are:

United States

Malaysia

Vietnam
United Kingdom

UAE

Russia
China

South Africa

Pakistan

Iran
Blanched Peanut Shipments