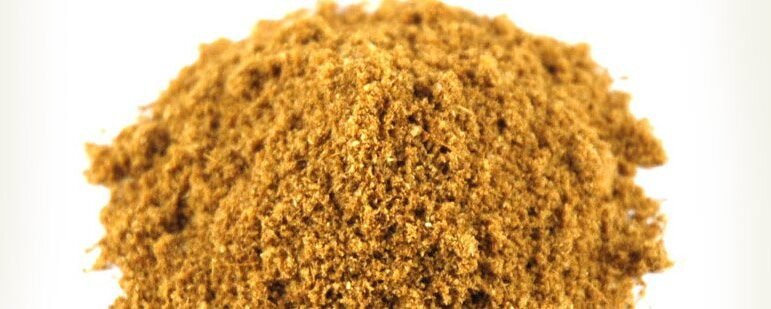 One of the most popular spice mixes around, Curry Powder is a earthy, yet fragrant mix of spices, and is used for a number of dishes, both meat and vegetarian.This blend of spices is freely available in mainstream supermarkets, and popularly used as a subsitute for a more generic version of curry powder. The supermarket versions usually come in a hot blend or a milder version.
A spice is a dried seed, fruit, root, bark, leaf, or vegetative substance used in nutritionally insignificant quantities as a food additive for the purpose of flavour, colour, or as a preservative that kills harmful bacteria or prevents their growth.
Many of these substances are also used for other purposes, such as medicine, religious rituals, cosmetics, perfumery or eating as vegetables. For example, turmeric is also used as a preservative; liquorice as a medicine; garlic as a vegetable. In some cases they are referred to by different terms.In the kitchen, spices are distinguished from herbs, which are leafy, green plant parts used for flavouring purposes. Herbs, such as basil or oregano, may be used fresh, and are commonly chopped into smaller pieces. Spices, however, are dried and often ground or grated into a powder. Small seeds, such as fennel and mustard seeds, are used both whole and in powder form.
Implementing advanced methods of extraction, blending, mixing etc., we manufacture and export wide range of basic ground spices as well as blended masalas. All our products comply with international health & safety standards. All our products are quality certified by quality control department before being dispatched for the marketplace. We ensure to deliver all our products in convenient packaging and within stipulated time frame.
Specification of Curry Powder:
| Name | Curry Powder |
| --- | --- |
| Item No. | KGC-CP-111 |
| Grade | AAA |
| Features | No Speckle, No Mould, No Sudan red 1,2,3,4. No heavy Metal, No Pesticide |
| Colour | Orange |
| Style | Dried |
| Admixture | 1% Max. |
| Shape | Powder(60-80 Mesh) |
| Moisture | 10% Max. |
| Certificate | Spices Board, APEDA |
| MOQ | 02 MT |
| Type Of Container | Quantity |
| --- | --- |
| 20 Feet | 17 Metric Tonne |
| 40 Feet | 27 Metric Tonne |
Why Curry Powder From Kinal Global Care Private Limited?
Transparent Written and Oral Communication about the product.
Customer focused rather than sales focused.
Experience of Shipping to almost 16 countries.
Customers feedback for each shipment.
Stringent Sourcing and Quality checking.
Live Videos and Photos while processing.
Willingness to help without any sales expectation.
Direct Personal Involvement of Management in each shipment.
How To Select A Genuine Exporter Of Curry Powder?
Understand Exporter's Company and the Industry.
Understand the Exporter's Presence and experience.
Knowledge, Quality and Source of the Product.
Pricing of the Product.
Willingness to help without any sales expectation.
Video Calling/Physical Visit.
Verification in Google about the complaints.
Tradeshow Participation.
The countries which are importing Curry Powder from India are:

United States

UAE
United Kingdom

Saudi Arabia

Australia

Kuwait

Qatar

Canada

Oman