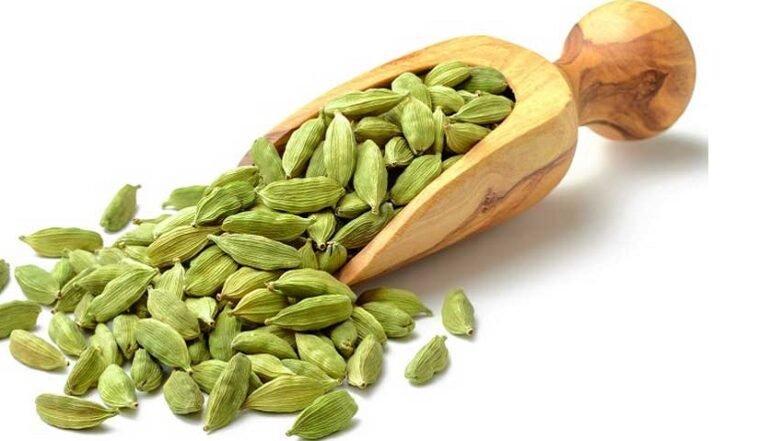 Cardamom of commerce is the dried ripe fruit (capsules of cardamom plant) often referred as the "Queen of Spices" because of its very pleasant aroma and taste. Cardamom is a perennial, herbaceous, rhizomatous plant.
BOTANICAL NAME: ELETTARIA CARDAMOMUM
FAMILY NAME: ZINGIBERACEAE
Cardamom is native to India and Sri Lanka where it occurs in the wild. It has been introduced all over all over tropical Asia where it is cultivated. The plant grows in a thick clump of up to 20 leafy shoots. It can reach a height of between 2 to almost 6 m.
Fruits – pale green to yellow and elongated oval-shape. Each fruit has 3 chambers filled with small aromatic seeds, each about 3 mm long. The fruits and seeds dry to a straw-brown colour and are widely used as flavouring.
Indian cardamom is offered to the international markets in different grades: 'Alleppey Green Extra Bold' (AGEB), 'Alleppey Green Bold' (AGB) and 'Alleppey Green Superior' (AGS) are names that register instant appeal worldwide. Cardamom oil is a precious ingredient in food preparations, perfumery, health foods medicines and beverages. India, a traditional exporter of cardamom to the Middle East countries where it goes mostly into the preparation of 'Gahwa' – a strong cardamom – coffee concoction without which no day is complete or no hospitality hearty for an Arab. Indian cardamom enjoys a premium preference in the Middle East, Japanese and Russians who relish it for its distinct enriching properties.
Specification of Green Cardamom:
| | |
| --- | --- |
| Parameters | Value |
| Product Name | Green  Cardamom |
| Origin | India |
| Variety | 6mm, 7mm, 8mm or AGEB/AGB/AGS/Split Pods |
| Size | 6 to 7 mm, 7 to 8 mm, 8 to 9 mm |
| Appearance | Fresh Green |
| Moisture | 10.0 % Max. |
Container of Green Cardamom :
| | |
| --- | --- |
| Type Of Container | Quantity |
| 20′Fcl | 10 MT |
| 40′Fcl | 20 MT |
Why Green Cardamom From Kinal Global Care Private Limited?
Transparent Written and Oral Communication about the product.
Customer focused rather than sales focused.
Experience of Shipping to almost 16 countries.
Customers feedback for each shipment.
Stringent Sourcing and Quality checking.
Live Videos and Photos while processing.
Willingness to help without any sales expectation.
Direct Personal Involvement of Management in each shipment.
How To Select A Genuine Exporter Of Green Cardamom?
Understand Exporter's Company and the Industry.
Understand the Exporter's Presence and experience.
Knowledge, Quality and Source of the Product.
Pricing of the Product.
Willingness to help without any sales expectation.
Video Calling/Physical Visit.
Verification in Google about the complaints.
Tradeshow Participation.