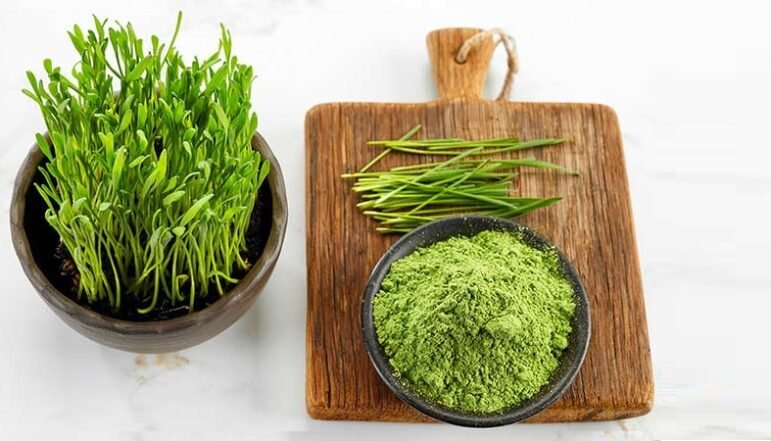 Wheatgrass is the young grass of the wheat plant, Triticum aestivum
Wheatgrass is a natural source of vitamins and minerals (a few of which are antioxidants) including Vitamins A, E, C, K and B6, Calcium, Selenium, Magnesium, Iron
Wheatgrass believers use it to try and combat a number of everyday health conditions including colds, cough, fever, digestive problems, and skin conditions. Wheatgrass is believed in potentially preventing and also treating more serious dreadful diseases.
Why Wheat Grass Powder?
Improves Immune System.
Boosts Metabolism.
Controls Blood Pressure.
Improves Red Blood Cell Count.
High in Oxygen.
Why Wheat Grass Powder From Kinal Global Care?
Our Wheatgrass has grown in the fields with traditional farming methods.
All of our crops are totally organic and completely free from pesticides and herbicides.
Our wheatgrass contains no artificial colours, flavours or preservatives.
Our wheatgrass is 100% Gluten Free and can be consumed by vegans also.
Our team will collect the best wheat seeds from organic certified farmers.
Our Germination & Harvesting Practice
We do organic soil preparation before seed germination
We give treatment to the seeds in organised and traditional way and germinate the seeds naturally before 24 hours
We use only clean village bore water for cleaning the grass
We use biofertilizers as organic inputs for Soil Fertility
Cleaning and Drying Process:
We will cut the grass within 7 days after germination of seeds in harvesting
We use high quality stainless steel scissors for cutting the grass
We clean the grass in fresh water
We do sterilization and remove all the bacterial
Drying the grass will be done in the field and damaged grass will be removed
We grind the grass into powder in Stainless Steel Pulverizer only with strict supervision
We store in room temperature to keep the freshness
Final Stage (Quality and Analysis):
We sent our samples to third party reputed laboratory for Nutritional analysis
Physical parameter analysis like appearance, odour, taste loss on drying, Bulk Density , Ph and Sieve Analysis
Microbial Analysis and  Heavy Metal Analysis-Arsenic Led Cadmium Mercury
How to use Wheatgrass powder Recipes:
You can take one tea spoon of organic wheat grass powder in milk, smoothie or juice or in water or can consume as green tea.
Specifications Of Wheat Grass Powder:
| | |
| --- | --- |
| Particular | |
| Brand | As per request |
| Form | Powder |
| Shelf life | 24 Months |
| Color | Green |
| Packaging Type | Cotton Box, HD OR LD Paper Bags |
| Moisture | Less Than 7% |
| Packaging Size | 25 Kg/As per request |
How To Select A Genuine Exporter Of Wheat Grass Powder?
Understand Exporter's Company and the Industry.
Understand the Exporter's Presence and experience.
Knowledge, Quality and Source of the Product.
Pricing of the Product.
Willingness to help without any sales expectation.
Video Calling/Physical Visit.
Verification in Google about the complaints.
Tradeshow Participation.
Wheat Grass Container Capacity
| | |
| --- | --- |
| Container | |
| 20' Fcl | 20 MT |
| 40 Fcl | 25 MT |
Fine Grade Wheat Grass Powder
Wheat Grass Manufacturing Process
Wheat Plantation And Process
Wheat Grass Powder Packing
Wheat Grass Powder Shipments