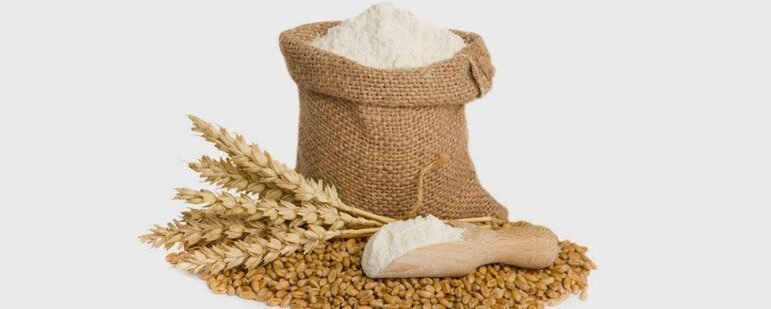 Wheat Flour is a powder made from the grinding of wheat used for human consumption. More wheat flour is produced than any other flour. Wheat varieties are called "soft" or "weak" if gluten content is low, and are called "hard" or "strong" if they have high gluten content. Hard flour, or bread flour, is high in gluten, with 12% to 14% gluten content, and has elastic toughness that holds its shape well once baked. Soft flour is comparatively low in gluten and thus results in a finer or crumbly texture. Soft flour is usually divided into cake flour, which is the lowest in gluten, and pastry flour, which has slightly more gluten than cake flour. In terms of the parts of the grain (the grass fruit) used in flour—the endosperm or protein/starchy part, the germ or protein/fat/vitamin-rich part, and the bran or fiber part—there are three general types of flour. White flour is made from the endosperm only. Brown flour includes some of the grain's germ and bran, while whole grain or wholemeal flour is made from the entire grain, including the bran, endosperm, and germ. Germ flour is made from the endosperm and germ, excluding the bran. We are exporter Wheat Flour. Our wheat flour is made from premium grade Wheat that is carefully selected and processed using modern technology to ensure that no impurities are there. We pack freshly grinned Wheat Flour to ensure nutrients are kept intact. We strictly follow industry guidelines to make sure that our wheat flour is safe and hygienic for consumption.
Wheat flour Prime grade:
Colour – white
Smell: peculiar to wheat flour without mould, frowsy or other foreign smell
Taste: peculiar to wheat flour with specific subtle bitter flavour without musty or other foreign smell
| | |
| --- | --- |
| Model Number | 353.5 Kcal |
| Energy Value (Kcal/100gm) | 353.5 Kcal |
| Moisture | 15% Max |
| Ash Content | 0.60% Max |
| Wet Gluten | 24% Min |
| Vitamin A | 208.15 IU |
| Iron | 2.26 mg |
| Crop Year | Current Year |
| Origin | INDIA |
| Packing | 25KG,50KG OR AS PER BUYER REQUIRED |
| Inspection | INDIA |
| Origin | GEOCHEM , QSS & SGS Or Any Other Agency As Per Buyer Required. |
| Falling Numbers | 160 mm |
| Supply Capacity | 1000 MT Per Month |
| Shelf Life | 12 Month |
| Load Ability | 24MT Per 1x20FT Container |
| Nutrition's information's: | | |
| --- | --- | --- |
| Items | Per 100g | NRV% |
| Energy | 1599KJ | 19% |
| Protein | 80.8g | 135% |
| Fat | 1.9g | 3% |
| Carbohydrate | 9.1g | 3% |
| Sodium (Na) | 13mg | 1% |
Nutritional Value:
Different types of flour contain different amounts of protein. It varies considerably amongst brands and the geographic location where the wheat is grown. Soft wheat flour, sold primarily in the South and cake flour are much better for biscuits and pie crusts. Hard wheat flours, sold primarily in the North and Midwest, are better for breads. There are as many as 30 types of protein in wheat flour, but only two of those are important for our purposes: gliaden and glutenin. When they come in contact with moisture (water, milk, etc.) and are stirred, they produce gluten which gives elasticity, strength and shape to baking recipes.
Health Benefits of Wheat:
Controls Obesity (especially in women):
Improves body metabolism
Prevents Type 2 Diabetes
Reduces Chronic Inflammation
Prevents Gallstones
Whole Grain Wheat Assures a Healthy Lifestyle
Promotes Women's Gastrointestinal Health
Protective Against Breast Cancer
Prevents Childhood Asthma
Protects Against Coronary Diseases
Improves Cardiovascular System in Postmenopausal Women
Prevents Heart Attack
Container:
Load ability:
 24 MT in one 20 FT Container
Why Wheat Flour Kinal Global Care Private Limited?
Transparent Written and Oral Communication about the product.
Customer focused rather than sales focused.
Experience of Shipping to almost 16 countries.
Customers feedback for each shipment.
Stringent Sourcing and Quality checking.
Live Videos and Photos while processing.
Willingness to help without any sales expectation.
Direct Personal Involvement of Management in each shipment.
How To Select A Genuine Exporter Of  Wheat Flour ?
Understand Exporter's Company and the Industry.
Understand the Exporter's Presence and experience.
Knowledge, Quality and Source of the Product.
Pricing of the Product.
Willingness to help without any sales expectation.
Video Calling/Physical Visit.
Verification in Google about the complaints.
Tradeshow Participation.
Analysis of Exports of Wheat Flour:
India exported wheat worth USD 1,338,104,626 with total quantity of 4,274,131,498. United Arab Emirates is the largest buyer of wheat accounting for exports worth USD 234,194,618 followed by Bangladesh and Indonesia which imported wheat worth USD 223,413,410 and USD 124,135,664 respectively.
The countries which are importing  Wheat Flour from India are:

United States

South Korea

UAE

Australia

Indonesia

Malaysia
Madagascar
United Kingdom

Oman
Somalia