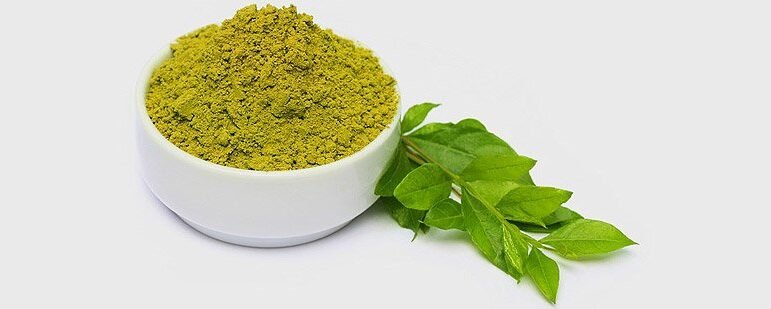 Henna is wonderful for hair!! Henna on hair was first used by Cleopatra to Color her hair Blonde. She was considered most beautiful women on earth and her blonde hair added to her beauty. Natural Henna is the best natural hair dye. Natural Henna dye gives brownish red hue on hair. Henna is a tint that binds to your hair protein, not a chemical to alter your actual color. It does not harm hair rather it improves the health of hair and makes hair strong, thick and bouncy. Henna hair treatment is very beneficial for chemically treated and damaged hair. Use Natural Henna for natural care of your hair. Best Ever Natural Herbal Henna Powder for Hair Coloring & Body Art.
Product Details:
Product: Natural Henna Powder
Botanical Name: Lawsonia Inermis
English Name: Natural Henna
Common Name: Mehendi
Plant Part: Leaves – Powder
Feature:
Low ammonia formula saturates every strand and gives hair natural healthy color.
Superb coverage for gray hair.
Long-lasting coloring result.
Natural glittering appearance.
100% Natural.
100% Chemical Free.
Usage of Henna Powder:
Medicinal Properties : Henna leaves are Antibacterial, Antifungal, Antiseptic, Antirheumatic, Astringent, Antispasmodic, Anti-Inflammatory, Antihemorrhagic, Antineoplastic, Blood Purifier, Coagulant, Constipating, Diuretic, Febrifuge, Oxytocic, Emmenagogue, Intestinal, Cardio-Inhibitory, Hypotensive, Expectorant, Cosmetic, Deodorant, Hair Conditioner, Hair Dye, Refrigerant and Sedative. Henna has been traditionally used for over 5,000 years as a cosmetic, natural dye and medicine. It is one of the best and oldest natural pigments to dye skin, hair, finger-nails, fabric, wools, leather and wood since the ancient times. The leaves, flowers and seeds of Lawsonia Inermis are also used for various medicinal purposes. Its Leaves are quite useful in the treatment of various skin disorders like skin burns, inflammations, wounds, boils, eczema, scabies, dandruff, fungal infections, ulcers, edema, prurigo, leprosy and leucoderma. Henna leaf powder is very useful in promoting hair growth, preventing hair fall and premature hair graying. Apart from skin ailments, henna is also used for the treatment of Dysuria, Strangury, Dysentery, Splenopathy, Liver Disorder, Gastrointestinal Ulcers, Jaundice, Anemia, Amenorrhoea, Dysmenorrhoea, Cough, Bronchitis, Typhoid, Hepatitis, Haemorrhages, Arthritis, Rheumatism and Cancer.
Body Art Quality Henna Powder.
Triple Sifted Henna Powder.
Cloth Filtered Henna Powder.
Best for Bridal Art.
Best for Tattoos and Body Art.
Vacuum Packing.
Function Of Henna Powder:
The company offers the natural henna powder in standard and customized packing and at competitive prices to the clients.
Our natural henna powder is made out of natural henna leaves after sorting, grinding and sieving from the henna fields and is the best in international market.
Only the best henna leaves, which produces deep coloration is used by us who is not available anywhere else.
Our modernized production process makes very fine consistent free flowing henna powder.
Herbal Henna powder is used as raw materials to make a variety of henna products for use on hair, face and body. This is easy in use and makes the health in good condition.
Specifications:
100% natural best A grade quality Henna powder for body art and hair colour. We bring forth to clients two varieties of Henna Powder namely Pure Henna Powder and Herbal Henna Powder. Pure Henna Powder is 100% chemical free pure Henna powder that can be mixed with water and applied on hands, palms, feet and other body parts using a plastic cone. Our product provides a dark and lasting color with Henna's natural characteristic fragrance and is extensively used in Henna cosmetics. Herbal Henna Powder is effective in providing natural conditioning and shine as well as strength to the roots of hair. Herbal Henna Powder can be mixed with water and applied on hair, to obtain deep burgundy color and silky softness.
Why Henna Powder From Kinal Global Care Private Limited?
Transparent Written and Oral Communication about the product.
Customer focused rather than sales focused.
Experience of Shipping to almost 16 countries.
Customers feedback for each shipment.
Stringent Sourcing and Quality checking.
Live Videos and Photos while processing.
Willingness to help without any sales expectation.
Direct Personal Involvement of Management in each shipment.
How To Select A Genuine Exporter Of Henna Powder?
Understand Exporter's Company and the Industry.
Understand the Exporter's Presence and experience.
Knowledge, Quality and Source of the Product.
Pricing of the Product.
Willingness to help without any sales expectation.
Video Calling/Physical Visit.
Verification in Google about the complaints.
Tradeshow Participation.
Analysis of Exports of Henna Powder:
India exported henna powder worth USD 55,903,164 with total quantity of 40,405,308. United Arab Emirates is the largest buyer of henna powder accounting for exports worth USD 7,390,050 followed by Turkey and Egypt which imported henna powder worth USD 4,361,092 and USD 4,321,917 respectively.
The countries which are importing Henna Powder from India are:

UAE

Turkey
Egypt

Japan

Saudi Arabia

Sri Lanka
Sudan

United States

Algeria

Malaysia